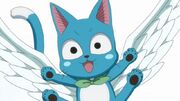 Appearance
Edit
Happy is a small blue Exceed with a white underbelly. He has a rectangular head, with pink ears, big black eyes with small, thin eyebrows, and light blue cheek marks near to his tiny whiskers (two on each side of his face). He has a long, white-tipped tail and the other parts of his tail are blue. When using his Magic, he can grow a pair of large, feathered, angel-like wings that allow him to fly around and carry others. Happy usually does not wear clothes.
Personality
Edit
Despite his small stature and eccentric appearance, Happy is very loyal to his teammates and fellow guild members and has a fairly significant amount of knowledge of the Magic world, in some cases, more than Lucy and Natsu. Given that he has been around Natsu Dragneel since his own birth, Happy often emulates Natsu in his actions and responses.
Magic and Abilities
Edit
Happy is able to sprout angelic wings that give him the ability to fly and carry objects or people for a specific amount of time. Max Speed (スピード Makkusu Supīdo) Happy utilizes a considerable amount of Magic Power to fly as fast as he can. This speed can be used to dodge incoming attacks or to attack the enemy. A disadvantage of this technique would be rapid loss of Magic Power, in relation to how long Happy uses this technique.